Christmas all wrapped up! Print Ideas this festive season
Christmas is coming. . . and with only 67 days until the big day at the time of writing, now is the perfect time to think about the festive season. For sure this year has been strange, and it is unlikely that we will be celebrating in the same way, but to thank valued clients and say is as important now more than ever.
Christmas can certainly feel like it suddenly creeps up on you and you haven't got your company Christmas cards, calendars or gifts organised. Even if you think you are ordering in plenty of time don't forget to allow for a bit extra to get them packaged up and sent out.
Let Q Print help you take the stress out of Christmas this year, so you can sit back, relax with your feet up and enjoy a hot chocolate (obviously with a touch of cinnamon and marshmallows on the top) with a big smile on your face knowing it's all done. You can't beat that smug feeling of having Christmas wrapped up early!
We know that budgets may be tight this year, worry not we have some fantastic low-cost print ideas below to help give you some inspiration and showcase your brand. Take bespoke wrapping paper, for example, a simple cost-effective method to get your logo out there, it literally has your name all over it! Even just a simple Christmas card thanking your clients for their support and custom is important this year more than ever.
We have been doing some research and wanted to share below some great gift ideas and bespoke packaging suggestions to help make Christmas extra special this year. We are big kids here at Q Print and love talking about Christmas, so if you are not quite sure what is the best product for you, please give us a call and we'd be delighted to discuss your needs. Too snowed under for a chat? No problem, drop us an email with your requirements and we'll come back to you with a festive solution. Here are some ideas:
Christmas Cards
Low cost, big visibility.  The obvious way to say thank you and send season's greetings, but also a great advertising tool.  Send them out too late and it won't be long before they get taken down with the Christmas decorations, so get them out nice and early to maximise brand visibility.  We have a full range of sizes, paper stock and finishes to choose from.  Why not add a bit of extra sparkle to your Christmas cards and finish off with a foil embellishment, now available in a selection of colours including: silver, gold, red and green.  Perfect for Christmas.
Wrapping Paper
It's literally got your name all over it! Add an extra special touch to the gifts you give this holiday season with personalised Christmas wrapping paper. Uniquely designed it is a great way to inject corporate branding to festive gifts no matter what surprise it holds. Various sizes are available.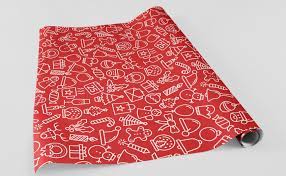 Gift Tags
Bespoke gift tags, the perfect accompaniment to matching wrapping paper or use on their own to hang on a gift.  Some options can even be supplied with string ready to tie.  Various sizes are available and you can choose between classic square cut corners, sleek rounded corners or traditional angle cut corners.  With a choice of silk, kraft or uncoated card these add a fabulous finishing touch to any gift.
Wine Bottle Carriers
Tis the season to be jolly after all!  Send the gift of festive cheer with bottle carriers, to provide impressive gifting solutions for clients, staff, friends or family. Not only are they an attractive means of presenting bottled gifts, but an efficient method of transporting them too. Perfect for a corporate thank you gift to customers or reward staff for their hard work, branded bottle carriers make ideal marketing piece.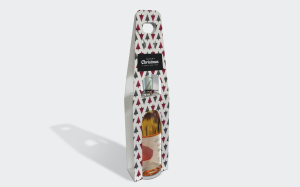 Bottle Neck Tags
These little beauties are a versatile way of branding any bottled gift.  With a great branding area for your seasonal message and logo.  Available on a smooth silk or an uncoated stock they'll look stunning hanging round any bottle neck.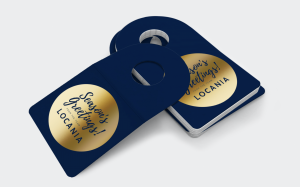 Christmas Crackers
Pull the other one! Personalised Christmas crackers are the perfect solution for celebrating the holidays with a bang. Send as a personalised gift to customers or a fun way to say a festive thank you to your staff. Alternatively, turn your festive cracker designs into unique table settings by filling with bespoke gifts that friends and family will love. Our personalised Christmas crackers are digitally printed, supplied flat but pre-taped on one edge to allow for easy self-assembly and filing with a small gifts, sweets or chocolates.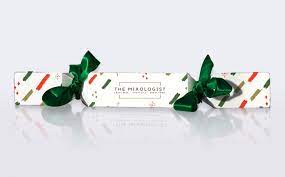 Selfie Frames
A Christmas party but not as we know it.   Christmas parties will be a bit different this year, even more reason to have a bit of fun in the office.  Snap some seasonal selfies throughout December and share via your social media channels to give your customers something to smile about with a 'countdown to Christmas'. We even have pre-designed templates for you ready to add your logo to. Simple silliness!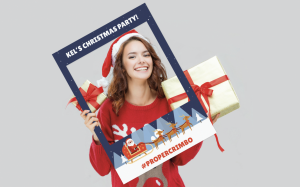 Gift Boxes
Take the stress out of wrapping presents this year with our Christmas gift boxes. Whether you're wrapping presents for loved ones or sharing corporate gifts, Christmas gift boxes are an attractive way of presenting items that warrant an extra special touch. We can print company logos, photos, patterns and more on our white coated box board allowing you to hold a variety of products securely into place using built-in flaps.
Calendars & Wall Planners
If you're a business looking for year-round promotional opportunities, company-branded calendars are the perfect solution. With a selection of wall mounted, desktop and wall planners available in various sizes there's nothing stopping you having your brand on display 365 days of the year. Personalise each month with photos or inspirational messages and brighten up any wall.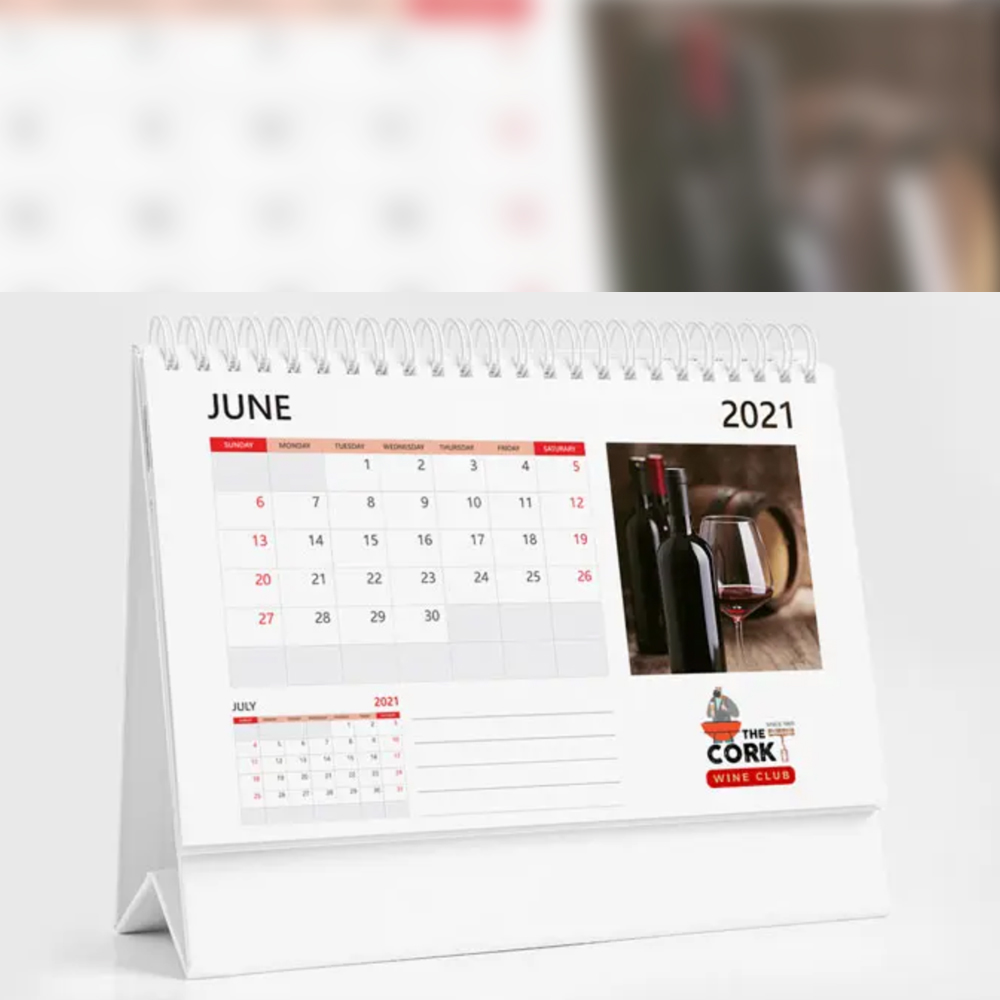 Now is the perfect time to be thinking about your festive marketing requirements, we have lots more ideas to share in addition to the ones above. Please do get in touch to arrange your no-obligation discovery call so we can chat through your brief.